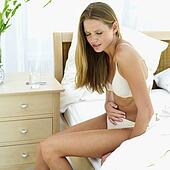 So, it is just about two weeks after your last period (around the time that ovulation usually takes place) and you realise that you are experiencing lower abdominal pains. You know that your next period is not yet due, you could not possibly be pregnant and so you are wondering, could something serious be happening to you, could you be dying?
This is exactly what happened to me when I first started experiencing what I now found out, is ovulation pain. I was prompted to conduct some research and has since found out that painful ovulation is very normal and affects up to 20% of women, some more severe than others and it is especially prevalent in women like myself, who have been diagnosed with PCOS.
After doing my research, I now understand more about this issue and now sees it as a good thing for some of us women, who are trying to get pregnant, because there will be no guessing as to when we are ovulating exactly and as a result our chances of conceiving is greatly increased.
"All women are familiar with cramping, headaches, bloating, and constipation or diarrhea that accompany periods every month. But some women also experience mid-cycle ovulation pain. This is absolutely normal and surprisingly common. Painful ovulation or mid-cycle pain affects about twenty percent of women. Although the pain may feel like something serious is wrong, painful ovulation or is rarely serious.
Painful ovulation, when severe, is referred to as mittelschmerz, a German word that means "middle pain." Most women who experience painful ovulation usually report a nagging pain that begins as a sharp twinge and diminishes into a dull ache for the next day or so. But for some women, the pain can be severe enough to be disabling and can even be confused with appendicitis. Occasionally, in addition to mid cycle pain and cramping, some women may experience nausea, and/or light menstrual spotting. Mittelschmerz lasts for 6 to 8 hours in most women; however, occasionally it can last as long as twenty-four to forty-eight hours."